We are looking for people who can work for us as volunteers.
In particular, we are looking for:
* A Volunteer Co-ordinator
* Benefit Advisors
* Finance Administrator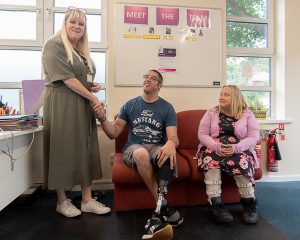 The Volunteer coordinator's work includes introducing new volunteers into the organisation and ensure they fit into a suitable role as well as ensuring volunteers are in place when they say they will be and arranging cover where necessary. Much of this can be done away from the office using a mobile phone.
Benefit Advisors assist disabled people with filling in forms to make claims for a variety of benefits. This might be one to two hours once per week – or more often if you have time.
Finance Administrator, This could be for you if you have experience with accounts/bookkeeping and payroll.
If none of these roles suits you but is still interested in volunteering, then please contact the office to see what other roles are on offer.
Note
As a volunteer, we will endeavour to support and train you in the various tasks you may be asked to carry out. However, after a time we expect our volunteers to carry out their work largely without the support and assistance of Coalition staff. Of course, if you have your own personal assistant/carer they can be with you.
Become a Volunteer Today
Mauris blandit aliquet elit, eget tincidunt nibh pulvinar a. Cras ultricies ligula sed magna dictum porta. Cras ultricies ligula sed magna dictum porta. Praesent sapien massa, convallis a pellentesque nec, egestas non nisi. 
Join Now

Get in Touch. Get Involved.
A Service from Coalition of Disabled People South Devon 
Charity No: 1108663
Disability Support Torbay 1 Lymington Road, Castle Circus, Torquay. TQ1 4BW