Our base is a busy office close to the centre of Torquay in South Devon
We are open from 10am to 4pm Monday to Thursday.
Warm and welcoming
A friendly place with friendly people.
Our Charity. Our Community.
Many of our services are free because our team includes both volunteers and paid workers. Donations are always welcome to help cover the cost of heating, lighting, phone, printing etc.
There is a charge for Personal Budget services but if you are receiving Direct Payments or other personal budget payments the cost will be covered by these.
What We Do
Our aim is to make a positive difference to the quality of life of people with disabilities, health and mental health issues.
We are an independent voluntary organisation and our staff includes both paid employees and volunteers.
Our area of operation includes
Torbay, Teignbridge and the South Hams.
We are people with:-
Physical, sensory or learning disabilities, mental health conditions, long term health conditions, older people whose abilities have changed, carers and friends.
Our aim is to use our knowledge and experience to deliver services that will make a difference
Our principles are based on people working together to encourage independence, empowerment and respect.
Volunteer Program
The Volunteer Co-ordinator's work includes introducing new volunteers into the organisation and ensure they fit into a suitable role as well as ensuring volunteers are in place when they say they will be and to arrange cover where necessary. Much of this can be done away from the office using a mobile phone.
Benefit Advisors
Benefit Advisors assist disabled people with filling in forms to make claims for a variety of benefits. This might be one to two hours once per week – or more often if you have time.
Finance Administrator
This could be for you if you have experience with accounts/book keeping and payroll.
Independence, Benefits and Housing
This service aims to support you to fill in benefit and other forms such as Universal Credit (UC) Personal Independence Payments (PIP), Employment and Support Allowance (ESA), Attendance allowance and so on. This service is free.
PIP application forms are requested by ringing 0800 9172222
Our Offices
The office is open to visitors, but please wear a mask if you are not exempt to protect our vulnerable clients.
Contact us by phone: (01803) 215871
Or email: info@dstorbay.org.uk
There should be somebody answering during office hours – or you can leave a message
An appointment is needed to complete a form.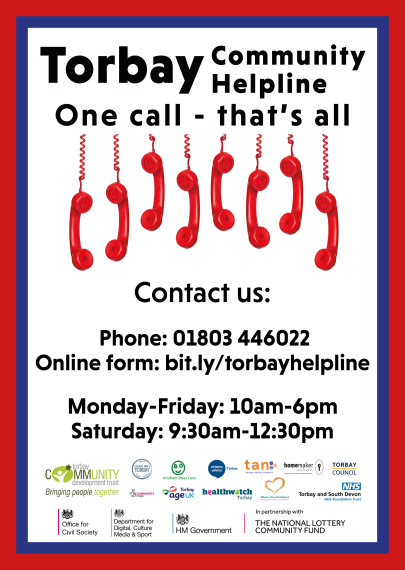 Become a Volunteer Today
You can find a way to volunteer and help someone else.
This may help you find a path back to paid work.
Disability Support Torbay
Disability Support Torbay is ready for the next 5 Years
Disability Support Torbay has secured its future for the next 5 years thanks to the Lottery's Reaching Communities Fund.

Get in Touch. Get Involved.
A Service from Coalition of Disabled People South Devon
Charity No: 1108663
Disability Support Torbay 1 Lymington Road, Castle Circus, Torquay. TQ1 4BW