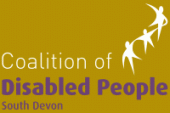 Disability Support Torbay - About Us
We have decided to change our name to something which tells everyone what we do, and is much easier to say, however the charity behind the name remains Coalition of Disabled People South Devon. Whatever we are called, we continue to work together to help ourselves and others.
Based in Torbay, we are people with :-
physical, sensory or learning disabilities
mental health conditions
long term health conditions
older people whose abilities have changed
carers
and
friends
Our aim is to use our knowledge and experience to deliver services that will make a difference
Our principles are based on people working together to encourage independence, empowerment and respect.
Our aim is to make a positive difference to the quality of life of people with disabilities, health and mental health issues.
We are an independent voluntary organisation and our staff includes both paid employees and volunteers.
Our area of operation includes
Torbay, Teignbridge and the South Hams.
Donations are welcome.
All donations help us continue and develop our services directly benefitting the people who use them.
Disability Support Torbay is a service from CDPSD
CDPSD is a Charity and Company Limited by Guarantee
Charity No. 1108663 and Company No. 05144355
Click Here to see our Board of Trustees